Four years ago today, I posted a short entry to express affection for a man who'd been making himself a little home within my heart.
At the time we'd been dating for about six months. I teased him regularly that the shelf life on most of my relationships was less than eight months, and as he approached that mark and then surpassed it, he often joked that he was running out of time on my attention span and he'd lose me soon.
Early in our relationship, he shared his lack of fondness for Valentine's Day. He'd avoided it every year, even when seeing someone, he told me. Women knew he wasn't going to make plans with them that day, and that was that.
So when our first Valentine's Day approached, in 2013, I assumed his personal tradition would hold true. I was living in Las Vegas, he was in Los Angeles. I wasn't disappointed about it — I knew what to expect because he told me what he was like.
The day before Valentine's Day was a Wednesday, and he sent me this adorable picture of the two of us, and told me he wished he could spend the day with me. I asked if he was serious.
He said yes, but he was leaving to shoot 2013's International Students for Liberty Conference on Friday, so he'd be flying out at 8am the morning of the 15th.
He said if I could get to him for Valentine's Day, he'd buy my return ticket home. So, at 5:30pm on the 13th, he purchased a ticket for me from Los Angeles to Las Vegas, same time as his flight to DC.
Last minute flights were a bit out of my price range, so I befriended a random German tourist who had decided to rent a Ford Mustang and drive from Las Vegas to Los Angeles on Thursday morning.
I'm not kidding. I met the German dude on Craigslist. He was 25ish, having his "American road trip" experience and was happy to drive me to LA for free just for the company for the 4.5 hour drive.
Thursday morning I hopped into the car of my new German friend, with just a backpack and my heart on my sleeve.
I arrived at his house mid-afternoon, bid good-bye to my chauffeur, and we spent the day and evening together – we made dinner and watched the movie Ted. We stayed up all night talking (and not talking), and in the morning we headed to LAX for our respective flights.
It was a perfect Valentine's Day that neither of us expected.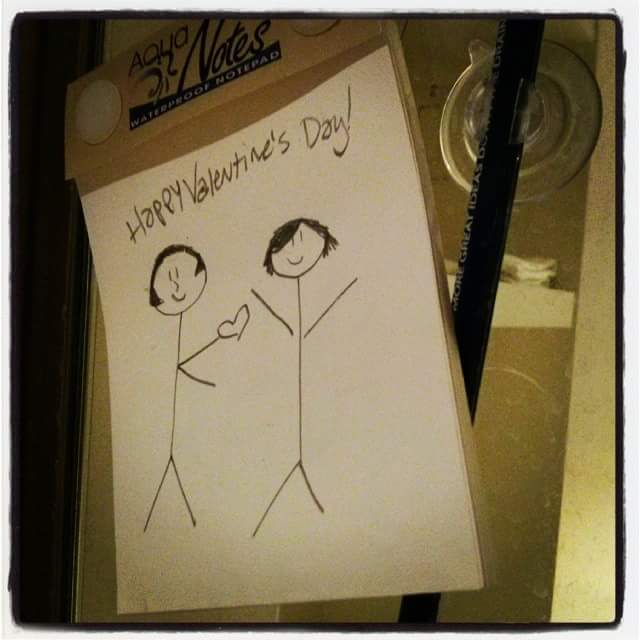 ---
Right before Valentine's Day two years ago, we decided, very amicably and mutually, to break up. We wrote loving testimonials to each other and meant every word. The response from friends and followers was enormous and loving, and we were so grateful that our communities that we were both so involved in did not have to "choose sides". We stayed close afterwards, and over time the lines we'd drawn eventually blurred between us.
Now he's my Valentine again this year. Whether this lasts another 6 months or 6 years or a lifetime… I love our story and these adventures we have.
I'll admit, I see us both as people who see the world and what we get from it as something within our control and ability. Like: I'm this way, and so this is how I react, this is how I want this interaction to go, this is what I do, and this is what I expect to happen.
I think when it comes to love, we've both let go of a number of our assumptions, because engaging in this story together as it unfolds is new, challenging, exciting, and unlike anything either of us has really done before.
Maybe it's just a kiss, frozen in time, echoing back over four and a half years of very influential memories that keep us coming back to one another. But it's special and it's real.
I can't say if it'll last. I've never been out this deep before.
But I love that he's my Valentine.