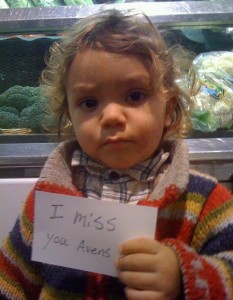 This little boy is Nakoa Moonhawk. Nakoa is three years old and lives in Dubuque, Iowa. His mother is Maple Breitbach, who is the older sister of my ex-boyfriend Jackson. His father is David Estafen. He has two brothers – Alam, who is 7, and Judah, who is 19 months. I consider them family, despite the bruised hearts between us.
On New Years Eve, Nakoa was chasing a toy of his behind the stove and his skin touched an uncovered, live wire of 220 volts of electricity. He was electrocuted instantly, and rushed to the hospital.
He has since been moved to Iowa City where he has been under constant observation. He has been in a comatose state for six days now. He has had numerous MRIs and CT scans and word passed has been both positive and pessimistic at differing times. Western medicine has kept him here with us for nearly a week – now the spirit needs to help.
For those of you who pray, I beg that you pray. For those of you who light candles, make altars, send energy, I beg that you do what you can. We have been hoping for calming, cooling blue light (recommendation for altars, a bowl of water with a candle floating in it?) – we need the swelling to go down in his brain and his body to begin healing. We want him to wake up when his body is ready to do so. We want him to be whole and healthy. We want him with us again.
Nakoa is a dear nephew-by-love to me. He is kind and sweet, and there's a seriousness to him sometimes (which implies an old soul to me) – but when he is overjoyed and laughing he does so with his whole being. This little boy couldn't pronounce my name for the first few months he knew me and called me "Awesomes".
I want to hear his little voice again, and see his little smile. This world will benefit greatly from continuing to have him in it, and I believe miracles are more likely the more people are wishing for one. Please join us.
This message of hope, of love, of light, of healing, has been passed all around this country and this world. Healers and heathens, communities, families, friends – the outpouring of love and support has been amazing already, we just want to keep the vigil going as this beautiful butterfly makes his way back out of his cocoon.
If you would, please think on Nakoa Moonhawk for a moment, and hold his family close to your heart, as we struggle to keep hope alive and see the best possible outcome. I cry as I write this knowing I may have to update this post in any number of ways. May it be the best of ways. May all be well. I can't bear to believe it will be anything but good news.
Thank you.